Choosing A Skateboard Deck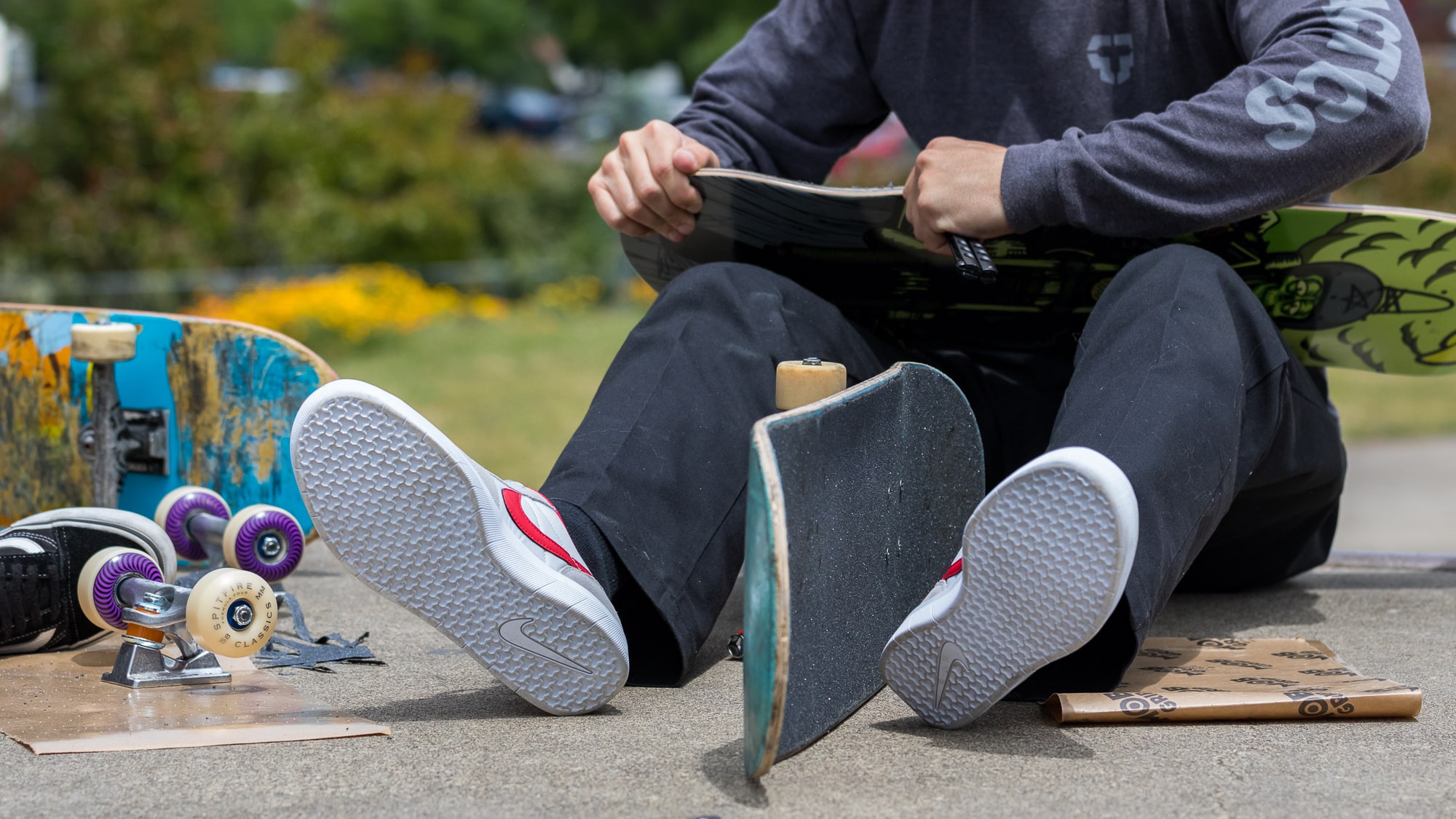 If you're looking for your first skateboard, you've come to the right place. Your first decision is choosing a deck. This will determine what other components you will choose. Our crew is full of daily skaters, so we put our heads together to give you the basics on how to choose the right skateboard deck for the kind of skateboarding you want to do.
Here's what we'll cover:
---
There are four main types of skateboard decks that are all very fun and functional for different types of riding. Watch the video and read below to decide whether a standard deck, cruiser deck, old school deck or a longboard deck is the right fit for you.
Standard Skate Decks
These are the best skateboard decks for beginners because they work well for street skating, skate parks and almost all other styles of skateboarding. Typically ridden with hard wheels, these skateboard decks resemble the shape of a popsicle stick because they feature both a nose and a tail that are exactly or nearly symmetrical.
Cruiser & Shaped Decks
If transportation is your goal, cruiser decks are our recommended choice. Cruiser decks are usually a similar length to standard decks, but have a large variety of different shapes. They are also typically ridden with soft wheels for a smoother, faster roll on rough surfaces. Compared to longboards, they are lighter and more nimble, allowing you to bob and weave through urban obstacles.
Old School Decks
Old School decks pay respect to vintage 80's-style skateboards. These decks are much wider and have longer wheelbases than standard decks, making them stable and great for bowl skating and transportation. Extra width and short noses make old school boards more difficult to flip or ollie, so they are not ideal for street skating.
Longboard Decks
If you are a beginner looking for a large stable board that makes it easy to learn to balance, these are the boards for you. They are also ideal for mellow cruising, pushing long distances and skating down hills at high speeds. Check our Choosing a Longboard Deck page for more info.
---
We recommend choosing a deck width that is proportional to your shoe size. If you wear men's size 6.5 to 9, start out with a deck width of 7.5 to 8.0 inches. If you wear shoes 9.5 or larger, we recommend getting a deck between 8.0 and 8.5 inches.
In general, skaters who like flip tricks, manuals, ledges, flat bars and technical tricks usually prefer boards on the narrower side of the spectrum (7.75 – 8.25 inches). Those who skate big bowls, hand rails, or like to jump down large gaps and stairs are usually more comfortable with a larger board (8.25 – 9.0 inches). Wider boards are also great for transportation because they offer a more stable and comfortable standing platform.
TIP: Don't be afraid to try out different sizes to find out what works best for you. There's no exact science about deck size – only personal preference.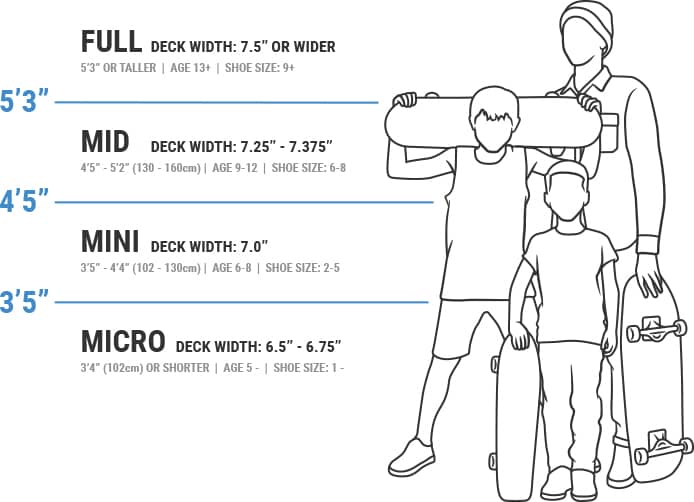 Skaters that are 13+ or wear an adult shoe size of 8+, should be able to handle a full-sized skateboard (7.5" or wider). We offer mid-sized skateboards (7.25 - 7.375") for kids 9-12 years old, mini skateboards (6.75 - 7.25") for kids 6-8 years old, and even micro skateboards (6.5 - 6.75") for kids under 5 years old.
---
Traditional 7-ply
The most common skateboard construction consists of seven thin layers of maple wood veneer, which are pressed and glued together with strong adhesives or resin. Maple is a dense hard wood that provides excellent strength and pop, making it the tried and true standard for decades.
Tech Construction
Some skate decks are designed with layers of fiberglass or other materials to improve strength and retain pop. If you like to jump down stairs or put a heavy beating on your deck, check out these durable decks!
Slick Decks
Some decks have vinyl or plastic coatings on the bottom to allow for smoother and longer slide tricks. Check these out if you want to boardslide through pockets or tail slide for days without loading up on wax or screwing in rails.
---
Keep Learning
---
---
Still Have Questions?
We're here to help. You can call, email, chat or IM during business hours seven days a week. Our customer service staff skates…a lot. They know their stuff and are happy to help you with all things skate.