Guide to Choosing Skate Shoes
Choosing the right skate shoes can seem difficult. There are thousands of options and a constant stream of new shoes being released all the time. Luckily for you, we have set up a guide with everything you need to know about how to choose skateboarding shoes to make a good decision that suits your style.
---
What is Skateboarding Footwear?
Skateboarding shoes are not just something you put on your feet, they are purpose-built pieces of skateboarding equipment. True skate shoes use technology that has been evolving since the 70s to meet skaters' needs in protection, comfort and durability. For every different style of skating, there is a skate shoe that is made to help skaters excel.
Tip: Skate shoes have carved a path in mainstream style, and many brands make shoe models designed to look like skate shoes, but do not offer the same performance and durability charachteristics. Although some of these "lifestyle" or "running" shoes - such as the Vans Ultrarange line or Adidas U_Paths - look like skate shoes, they are not built to be used in that way, and will not perform well or last long if you skate in them.
What kind of information on skate shoes are you looking for?
---
Choosing which sole-type is best for yourself is the most important part of the skate shoe buying experience. There are two main sole-types:
Cupsole shoes
Cupsoles are durable and shock-absorbing to provide the best impact protection against hard landings. These shoes are constructed with a single rubber outsole unit. The upper is then sewn and glued to the outsole. They generally last longer than a vulcanized sole but don't provide as much flexibility and board feel right out of the box. This type of shoe is best for anyone who likes to jump down stairs or off large ledges because the extra cushion will protect your feet.
Vulcanized shoes
"Vulc" shoes are light, flexible and break in quickly. These don't provide as much foot protection as cupsoles, but they are preferred if you're looking for a good board feel in a shoe with less weight and bulk. These shoes are constructed by connecting the upper to the outsole with foxing tape wrapped around the perimeter shoe, then the shoe is baked in an oven to meld the pieces together into one unit. The baking process degrades the rubbers in the process, which makes them softer. This is why vulc shoes are thinner and more flexible. Vulc shoes are ideal for someone who wants to cruise around the streets, skate transition or learn flip tricks on flat ground.
shoe type

pros

cons

best for

not recommended for

Cupsole

durable

impact protection

longer break in period

less board feel

vulcanized

light-weight

good board feel

fast break in period

less durable

less protection

transition

skateparks

cruising
---
Aside from the sole, the upper materials are the most important factor when choosing skateboarding shoes. Here, there are a variety of options all with benefits and downsides. Check them out and decide for yourself which makes the most sense for you.
Canvas
Since the 70s, canvas shoes have been a staple in skateboarding due to their light weight and breathability. Shoes such as Vans Authentics and Converse Chuck Taylor All Stars have become iconic in the skateboarding world for those reasons. Yet, canvas is not always the best choice for skateboarders because it is less durable than other materials. It breaks down fast after being slid across coarse griptape time after time. Canvas shoes are best for skaters who like to cruise around, carve on transition and do fewer flip tricks.
Leather
Ultra durable and abrasion resistant, leather is a solid choice for skateboarders. You can do tons of tricks without inflicting much damage to the flick area of your shoes. Leather shoes are like the Terminator, they take a beating and somehow stay in one piece. Unfortunately, also like the Terminator, they can make your feet feel like they are melting. These shoes provide nearly no breathability for your feet, which will cause them to get hot and soggy quickly.
Suede
A happy medium, suede combines the best that canvas and leather have to offer. Suede has great abrasion resistance, giving it high durability. It is thinner than leather and more breathable. Even so, after a long session your feet will begin to sog out in most suede shoes.
Textile
Light-weight, breathable and durable, textile makes up a large amount of newer, more "tech" skateboarding shoes. Most shoes that utilize textile also use suede or other materials to cover points on the shoe that are likely to see the most damage. Many companies' cupsole shoes use textile uppers to cut down on weight, while maximizing padding and bulk.
shoe type

pros

cons

best for

not recommended for

canvas

breathablity

light-weight

cruising

carving around transition

flip tricks

heavy skate usage

Leather

least breathable

more rigid

suede

good durablility

break in well

textile

good breathability

light-weight

good durability

any, especially street skating
---
Skateboarders know that they need a shoe that will last. That is why many companies have begun to invest in new ways to strengthen shoes where necessary. Skaters also need shoes that keep them comfortable while skating for hours on end. Sometimes the smallest features make the biggest impact on shoes, and can make or break your skateboarding experience.
Heel Protection
One injury that is sure to end a session early are heel bruises. This is why many shoe manufacturers have created different heel-saving technologies to add to their shoes. Nike and Converse feature Zoom Air Bag heels in their insoles. These are a low-profile, yet highly effective to protect your heels. Other companies have used EVA foam within their shoes to create a thicker barrier between the ground and your heel. One example is Adidas' ADIPRENE®, but many companies use similar technology.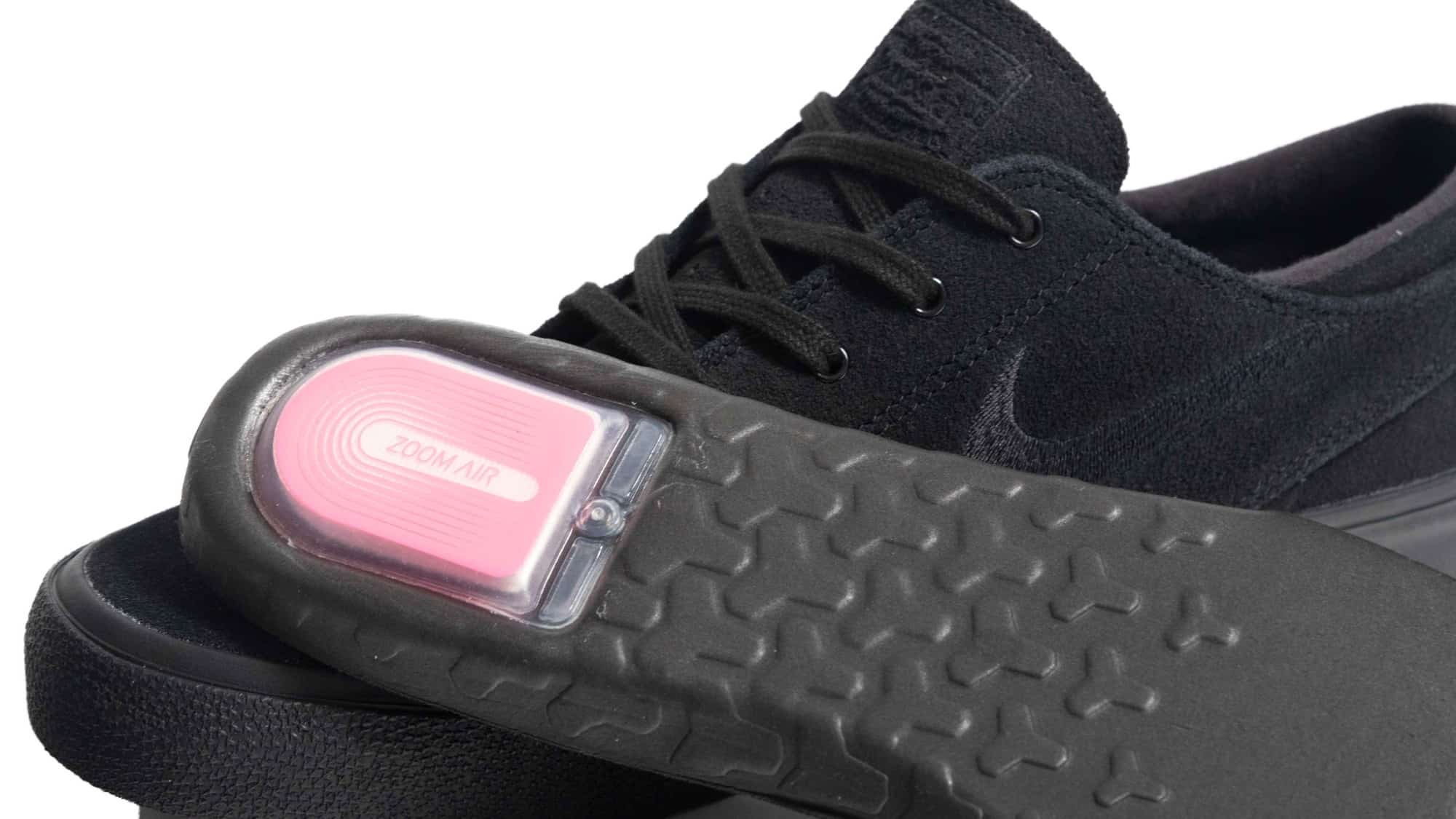 Toe Caps
Companies, such as Vans, Converse and Adidas, have created what are known as toe caps. These are rubber strips that protect high-wear areas of their shoes. Some shoes feature external toe caps, while others utilize the rubber below the uppers. This way, holes that develop in the upper material expose rubber instead of your foot, keeping you protected and giving your shoes a longer lifespan.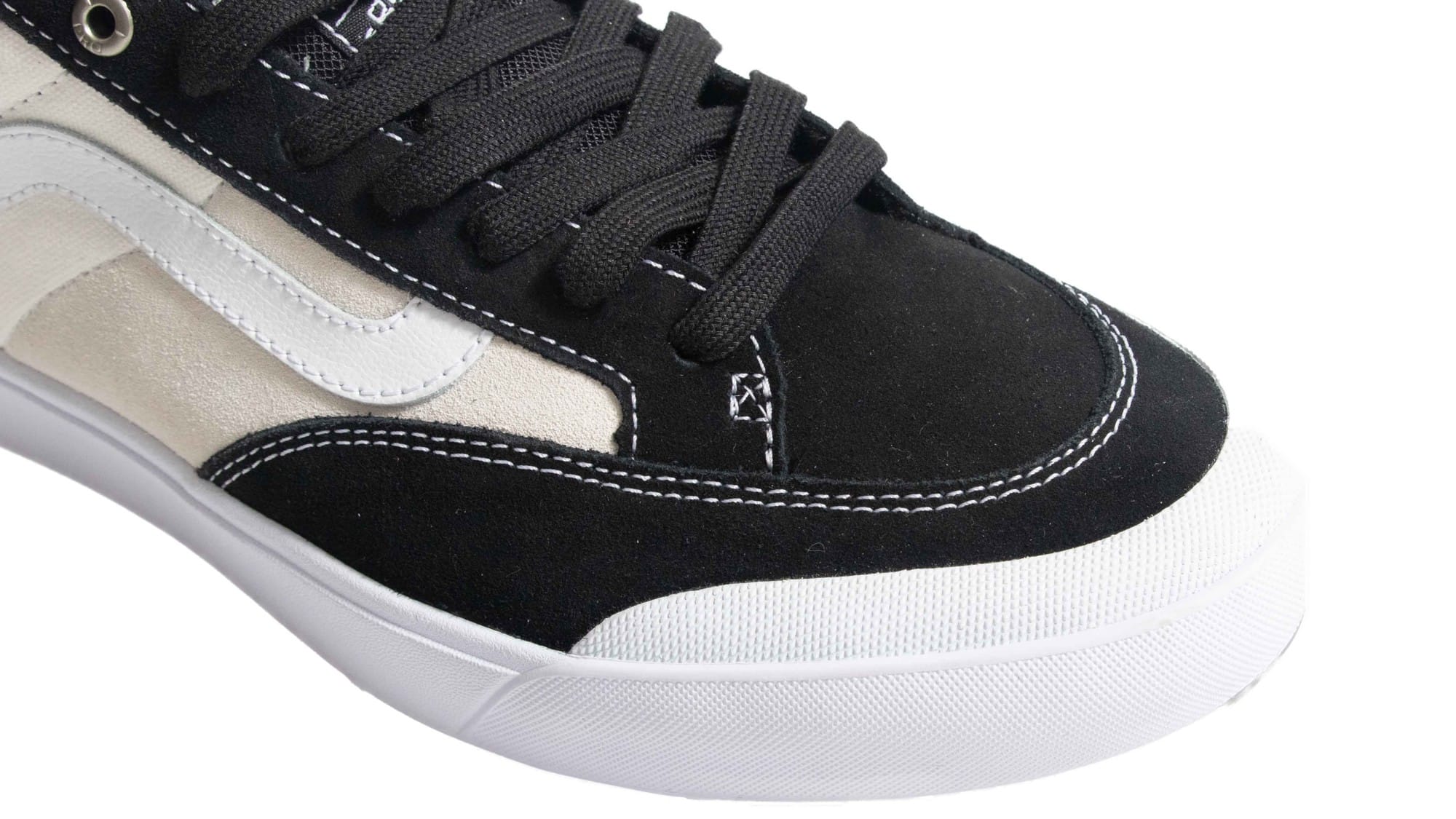 Gusset Tongues
Nothing is more annoying than a shoe tongue that won't stay centered. When your shoe's tongue slides to one side or the other, it can cause pressure points. This is why some skateboarding shoes feature elastic gussets that connect the tongue and the midsole, giving you a snug fit and keeping your tongue in place.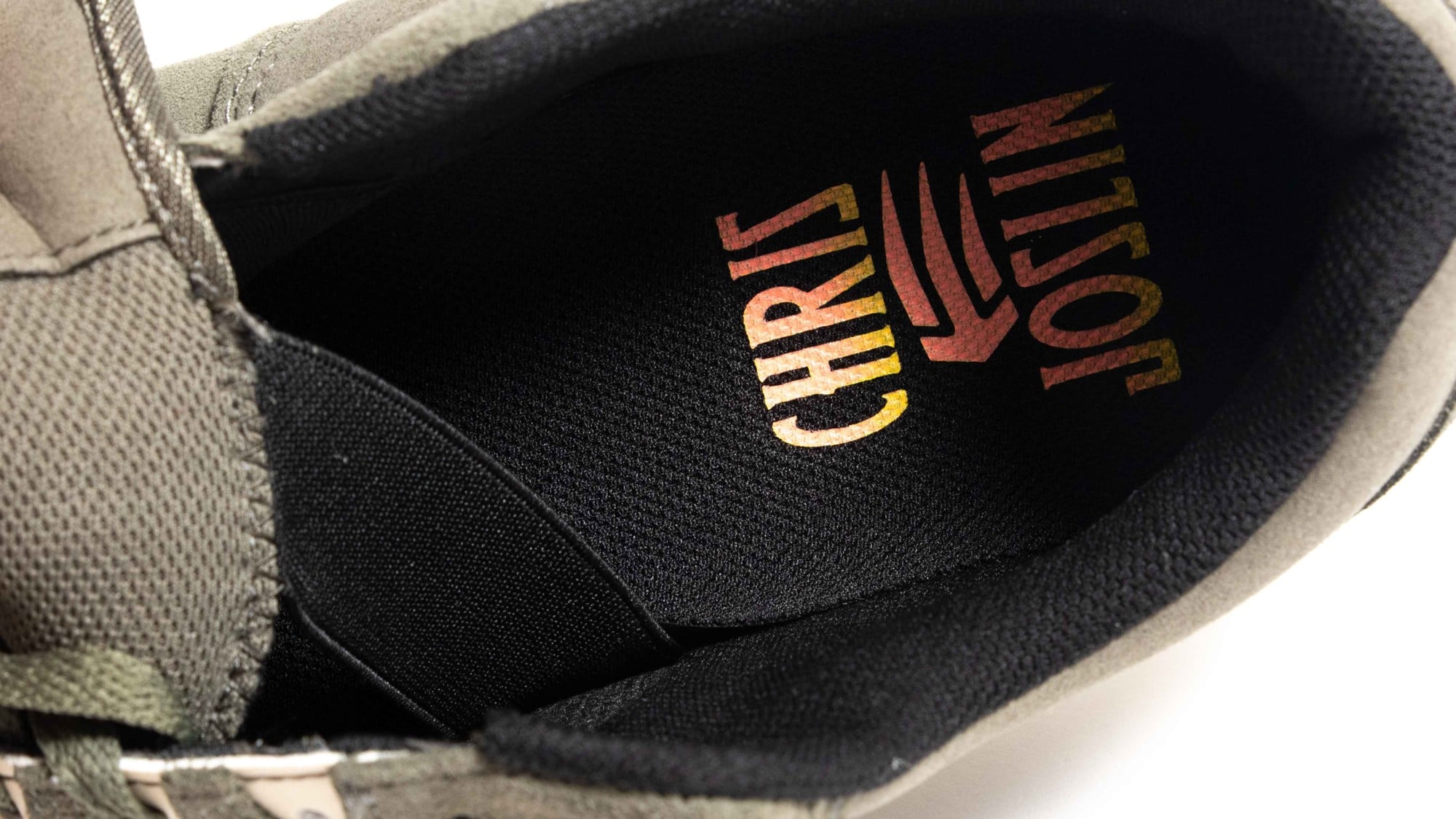 Double-Wrapped Foxing Tape
Foxing tape is the rubber strip that borders the bottom of the shoe. Many skate shoe manufacturers bulk this feature up by adding a second layer of foxing tape to reinforce that part of the shoe. This way areas such as the toe and heel will last longer.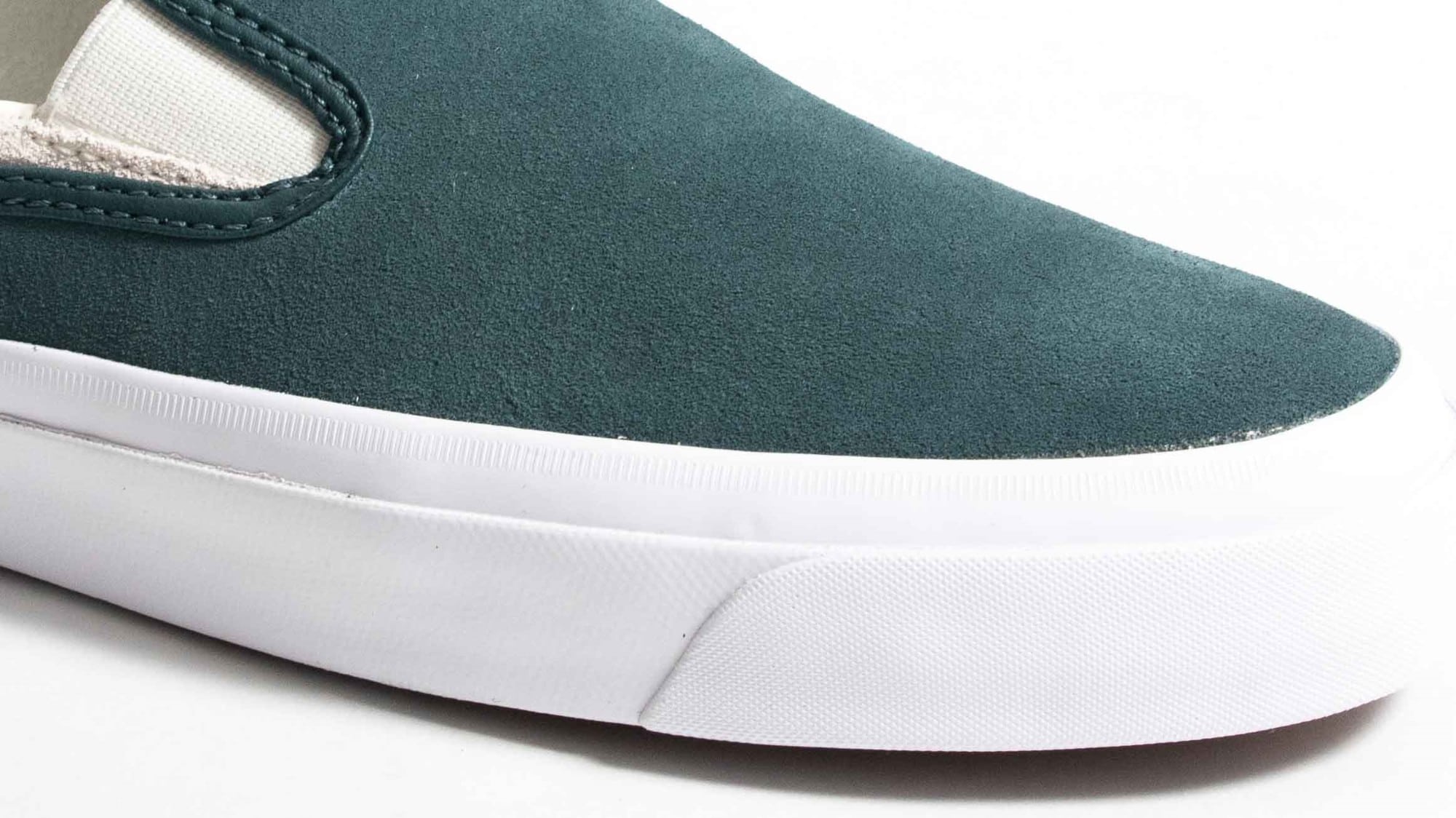 Michelin Outsole Technology
Using a custom formula from Michelin tire manufacturer, this outsole lasts three times longer than a standard outsole without sacrificing grip or board feel.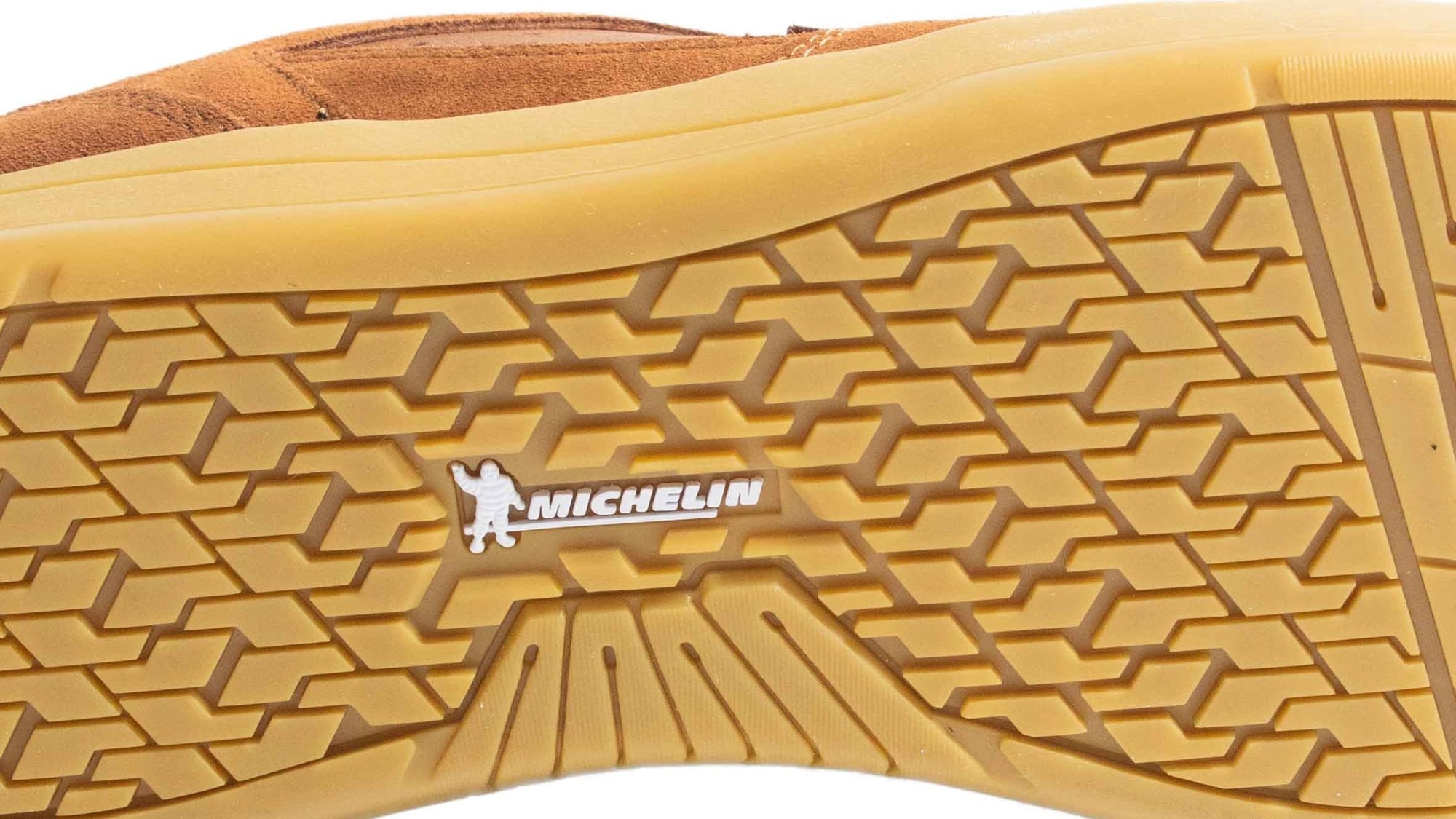 ---
At the end of the day, every skater wants a shoe that reflects their style while also meeting their needs for protection and comfort. That's why there are so many different types of shoes. High-top, mid-top, low-top or slip-on, pick your poison and go skate!
High-Tops
High-tops are great for when you need a little extra protection or stability at your ankle. These shoes will provide a rigid feel, which can be good or bad depending on the way you skate. They also will typically be slightly heavier and add some bulk.
Low-Tops
Low-tops are the type of skateboarding shoes you are most likely to come across. With a lower-profile and full mobility of your ankle, low-tops are a crowd favorite. However, these shoes will not provide much ankle protection, which sucks when your board smacks you in the ankle.
Mid-Tops
Mid-tops are somewhere in the middle. With these you'll find a shoe that allows good mobility, while offering decent ankle protection. Mid-tops are a solid choice for any skater. Steve Caballero abides.
Slip-Ons
Slip-ons are classic and stylish. Grab a pair and you'll never have to worry about broken laces again! These are the lowest-profile skate shoes you can find. Board feel in slip-ons will be second to none. Typically, they will provide nearly no protection for your ankles. But that is a trade off that may be enticing to some who are less worried about protection.
SHOE TYPE

PROS

CONS

High-top

more bulk

least ankle mobility

low-top

lower profile

ankle mobility

mid-top

GOOD ankle protection

good ankle mobility

slip-on

most ankle mobility

LIGHT-WEIGHt

lowest profile
---
Keep Learning
---
---
Still Have Questions?
We're here to help. You can call, email, chat or IM during business hours seven days a week. Our customer service staff skates…a lot. They know their stuff and are happy to help you with all things skate.