Types Of Snowboard Boots & Riding Styles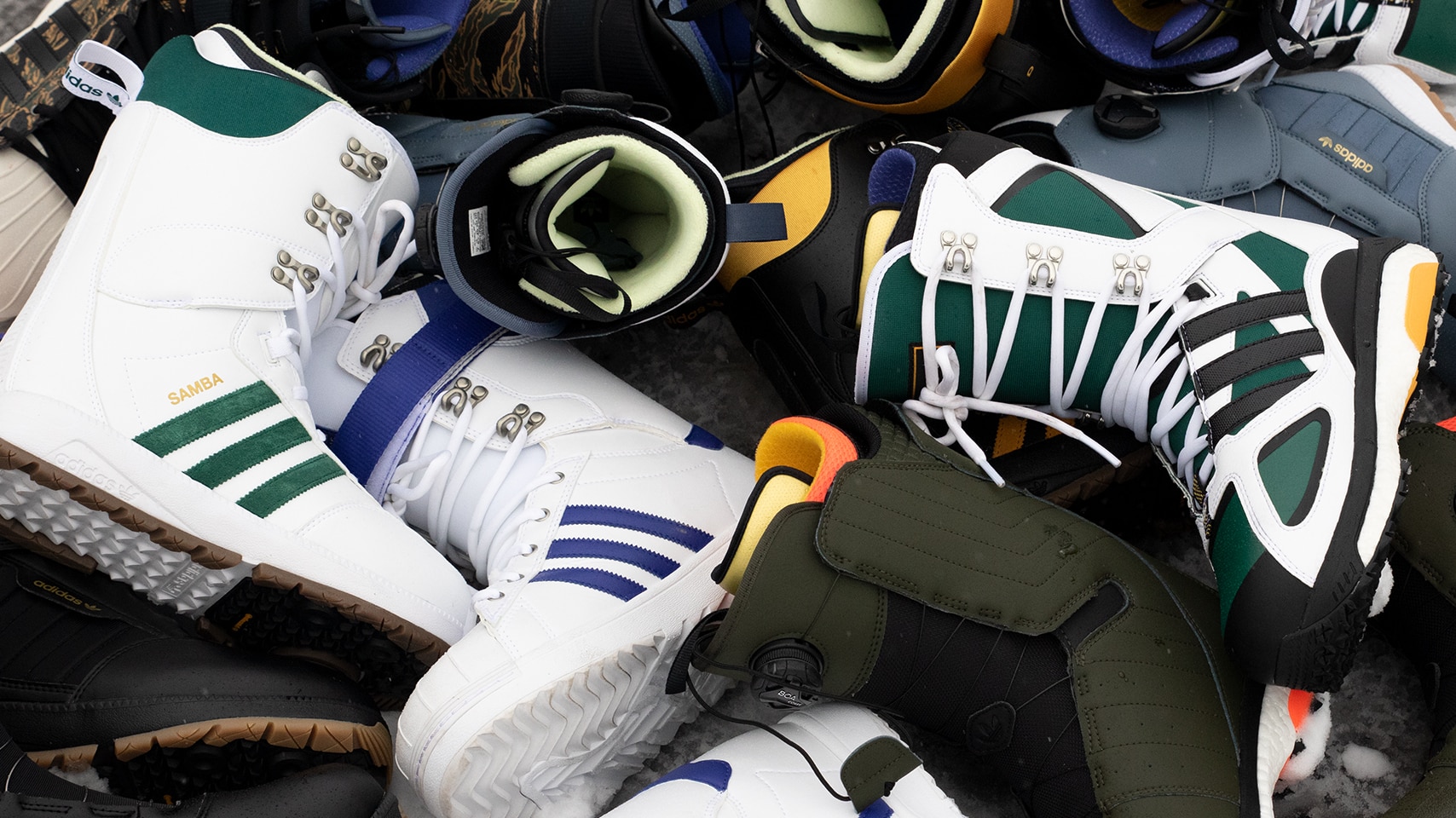 Different boots are made for riding in specific conditions, so knowing your preferred riding style is the first step to finding your ideal pair of boots. For example, most beginners are looking to enjoy the entire mountain and thus need an "All-Mountain" boot that offers a medium level of flex and mobility while a more freestyle minded rider will gravitate towards a boot with added mobility and more flex. Scroll through our guide for helpful insight in choosing the best type of snowboard boot for your own individual ride style and skill needs.
---
ALL-MOUNTAIN SNOWBOARD BOOTS
All-Mountain boots are built with the mid-level support and control you need to ride a variety of terrain and snow conditions. They're ideal for novice riders looking to progress their skills across the entire mountain and experienced rippers who shred everything in sight. It's no wonder the majority of snowboard boots on the market fall under this category.
---
PARK/FREESTYLE SNOWBOARD BOOTS
Designed for easy mobility and free range of motion, park/freestyle snowboard boots offer the flexibility you need to tweak grabs and press rails and boxes. These boots are designed for riders who spend the majority of their time riding terrain parks and urban features.
Park/Freestyle boots can also be a good option for younger or lighter riders as they are unrestricting and allow an increased range of motion with less force.
---
POWDER/FREERIDE SNOWBOARD BOOTS
If you're charging steep runs or backcountry terrain, chances are you could benefit from a freeride specific boot. Freeride boots are designed with a stiffer flex and offer more response and control to help turn initiation and edge hold when riding challenging terrain. They'll typically offer other features too, like increased traction for hiking, more durable materials, and warmer, higher quality boot liners. If top of the line performance and support is what you are after, a pair of freeride boots will not let you down. Freeride boots can also be a good option for heavier riders as they provide the added support needed to maintain proper board control.
---
SNOWBOARD BOOT FLEX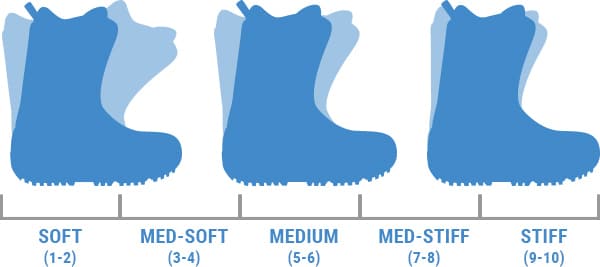 A snowboard boot flex rating refers to the boot's torsional and lateral bend under pressure. A "softer" flexing boot will offer more maneuverability while a "stiffer" flexing boot will be more rigid. There is no standardized flex rating for boots but many snowboard boot brands will use a 1-10 flex rating system (1=super soft, 10=very stiff). We think it's most helpful to break these down into three classes: soft, medium and stiff.
---
SOFT FLEX SNOWBOARD BOOTS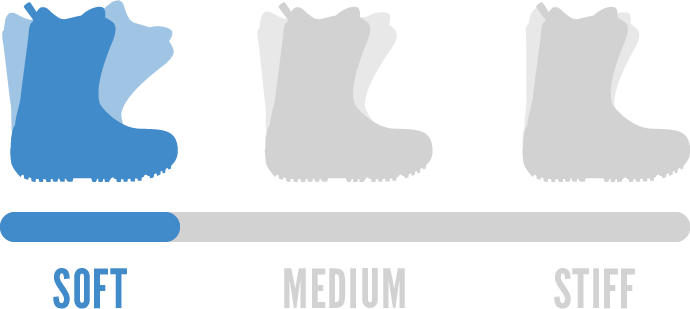 Soft boots are ideal for freestyle minded riders as they offer more amounts of maneuverability, allowing for more expressive styles of snowboarding. The downside to soft boots is that they lack support and response compared to medium and stiff boots. This means your legs have to pick up the slack and can lead to more leg fatigue during a day on the hill.
---
MEDIUM FLEX SNOWBOARD BOOTS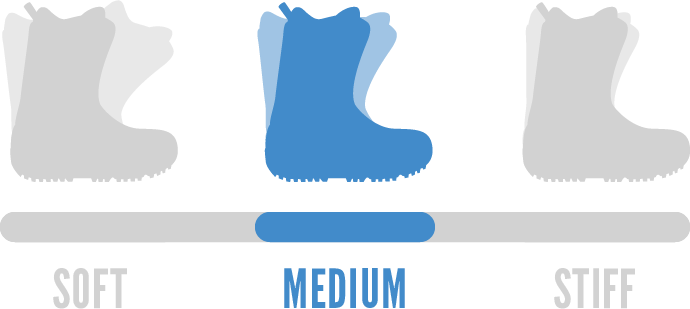 Most snowboard boots fall under a medium flex rating. A medium amount of flex is ideal for riding all types of terrain and is what we suggest for most beginners, weekend warriors and experienced rippers who ride everything. If you've done your research and are still unsure of what flex rating is best for you, a medium flexing boot is usually a very safe buy.
---
STIFF FLEX SNOWBOARD BOOTS
Stiff boots are designed for hard-charging, freeride focused riders who want the best performance on the steepest, most challenging terrain. By increasing the boot's stiffness, riders get added leg and ankle support that allows them to drive more immediate pressure into their snowboard's edge, creating more secure edge hold and response on steep, challenging terrain. Stiff boots don't leave as much room for correcting mistakes while riding though and are a bit overkill for most newbies so we don't recommend them for beginners.
---
KEEP LEARNING
---
---
Still Have Questions?
We're here to help. You can call, email, chat or IM during business hours seven days a week. Our customer service staff skates…a lot. They know their stuff and are happy to help you with all things skate.